Overview
This purpose of This is Your Bible is to encourage those who are seeking the Truth to access literature, enrol in Bible courses, and engage with Christadelphian tutors. Over its 15 years of operation, the site has attracted well over a million visitors and items of literature have been accessed many thousands of times. In that period there have been close to 100 baptisms that we know of and probably many more related to students' interactions with the site.
Since TIYB's inception, more than 40,000 of our visitors have registered for course work on the site and over 26% of those registered are currently active. These students are managed by over 500 Christadelphian tutors from Ecclesias all over the world.
The site allows visitors to submit Bible-related questions (answered within 24 hours by TIYB staff), download related preaching materials, view videos and webinars, obtain an e-mail address of a Christadelphian they can write to directly, locate any Ecclesia in the world, register for Bible courses either online or by regular mail, and read a wide variety of literature on first-principles subjects.
The site provides a secure login for tutors which gives them the tools to manage lessons and facilitate easy communication with their students.  Ecclesias can host their own web page easily on thisisyourbible.com, providing a convenient way for site visitors to get information about your ecclesia's location and activities.  There is ample support provided on the site with tutor training videos and one-on-one support from the system administrator
Visit website: http://www.thisisyourbible.com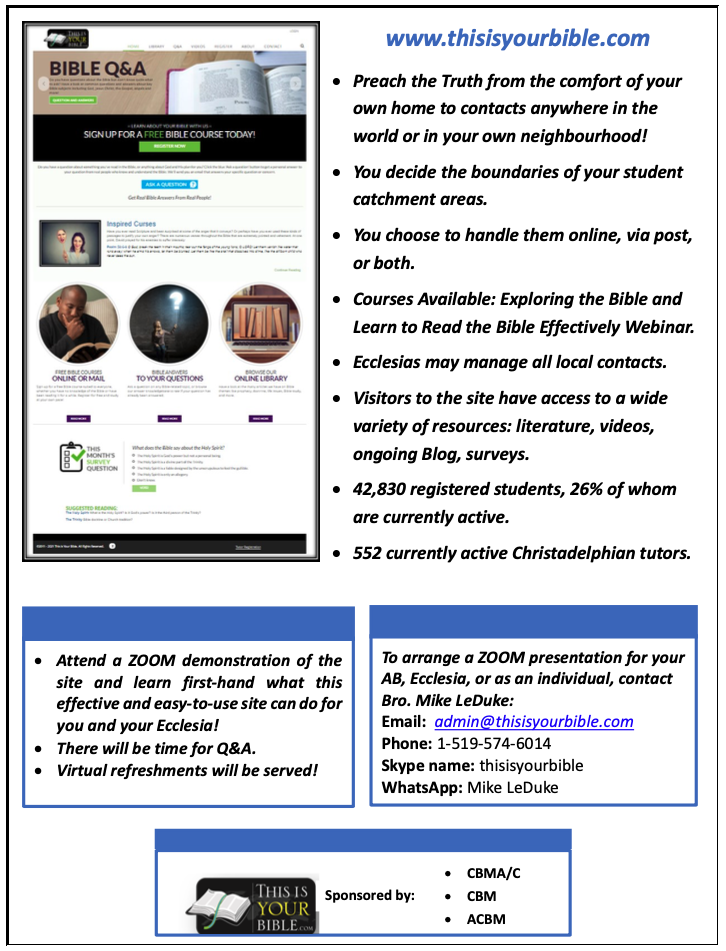 Support Christadelphian Bible Mission of the Americas.