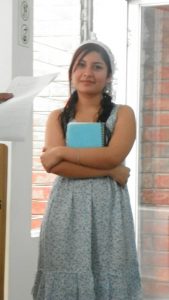 On Sunday, June 30, 2013 the brethren and sisters in El Salvador were blessed with a new baptism. Eva Gabriela García, 18, publicly proclaimed her decision to change the direction of her life and join the great family of the faith which is striving towards the kingdom of God. Sis. Gaby, as we call her affectionately, attends meetings with her family in their home town of Sonsonate in the western part of the country. She has been attending Sunday school practically from the day she was born. The youngest of four children, her parents and three older siblings already having been baptized, Gaby is the last member of the family to take this important step. She asked to study for baptism when she was 16, and so the ecclesia programmed a series of weekly private classes covering Bible history and teaching. Her thirst for knowledge and understanding made the two years of instruction go by very quickly, and she found that even though she had been coming to meetings and classes all her life, she still had a lot to learn. When asked how she was contemplating this new stage in her life, Gaby replied with typical modesty, "I'll try to do my best; I still have a lot to learn."
The baptism was carried out in the San Salvador ecclesial hall during the quarterly fraternal gathering of the three ecclesias in the country.
This was sent from the Sonsonate Ecclesia, El Salvador.