El Salvador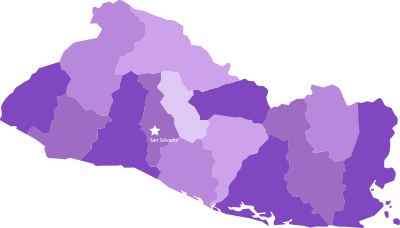 Languages:
Spanish

Ecclesias:
80 members – San Salvador, Sonsonate, Usulután

Main Religion:
Roman Catholic

Contact:
Jim Hunter
Activities
All 3 meetings carry out a full slate of ecclesial and outreach activities under local leadership. The San Salvador Ecclesia broadcasts its Sunday meetings via Skype. A special campaign in San Salvador in late 2018 produced some new interested friends, 2 of whom are studying for baptism. Several other friends and young people are also in preparation for baptism.
The CBMA provides all the ecclesias with advice and financial support for pastoral work and preaching. A local sister handles course requests from Google ads. The Bible school held at the end of every year is well attended both by local members and brethren and sisters from other areas.
News from El Salvador
April 24, 2023
El Salvador Bible School
By Bro. Jim and Sis. Jean Hunter, Link Couple for El Salvador
Bible school activities began a few days before the actual event. As the out-of-town visitors arrived they were taken on trips to the beach and volcanoes and to special dinners. Newly-baptized Bro. Cristian Mamani came from Bolivia, Bro. Nahuel Carmona from Peru, Sis. Marcela Castellanos from neighbouring Honduras and Bro. Dante Berbetti from Phoenix, Arizona. In addition, brethren and sisters Jorge, Encarnación, Victor and Marina, bussed in from Guatemala.
continue reading
March 17, 2022
A Pan (Latin) American Bible School
By Bro. Jim & Sis. Jean Hunter
After another year of frustration and confinement. By the end of 2021, travel and hygienic restrictions were being eased in Latin America, so in El Salvador, plans were made for a second consecutive Bible school under the shadow of the Covid pandemic, praying that God would allow the project to go ahead and bless it to His honour and glory, and for the spiritual benefit of all who could attend.  There were 83 in attendance, more than we had dared hope for. Our God was gracious and gave us this time together around His word.
continue reading
February 25, 2019
Baptism in El Salvador
By Bro. Jim and Sis. Jean Hunter
We're very happy to announce the baptism in San Salvador of our new sister Rebeca Fernández, 23, on December 28, 2018.  Being the daughter of Bro. Manuel and Sis. Silvia Fernández, Rebeca grew up in the meeting. Her decision to become part of the family of God, following in the footsteps of the Lord Jesus, has given much joy to her parents and her ecclesial family.
continue reading
Support Christadelphian Bible Mission of the Americas.