Baptisms in Guadalajara
By
It is with great joy that we announce several baptisms in Guadalajara on the March 18, 2012.  Each candidate gave a very clear confession of the hope we share and of their commitment to a new life in Christ.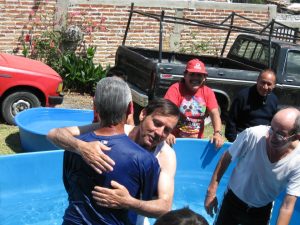 Esperanza Ortega Ibarra came to us from a Christian church, looking for more diligent Bible Study. She always had problems with the popular doctrines of Satan and the Trinity. Her studies with us put all the puzzle pieces in place for her and she is quite overjoyed to now be a member.  She has already been an active participant in the ecclesia and will be of great help in Guadalajara where there are only a few sisters.  Sis. Esperanza has four sons, Jonathan, Josue, Daniel and Cristian.  Three of her sons and her mother, Luz, attended the baptism. The two younger sons and Luz are attending classes with her.
Oscar Villezca Rivera has been studying in the Bible Center for more than 16 months.  He first came and quietly read our literature while seated in the foyer out front. He would come several times a week and read for hours, one pamphlet after another. Finally he was willing to come inside and do the Bible readings with us, and later attended classes. When he finally began to talk with us some 8 months later, it was apparent that he understood clearly what he was reading and was convinced that we were teaching biblically. A couple of months ago he began to talk about baptism. We did formal studies with him to make sure that he was not lacking in any aspect, and to make sure he understood the commitment and change he was undertaking. He has already become quite helpful in the distribution of flyers for the Bible Center.
Efren Becerra Bue has been studying with us for a year. He has 3 grown children. He has found great joy in coming to know the Scriptures and knows he has much still to learn and grow.
Jose Antonio Espita was attending our ecclesia in Guadalajarawhen he was 15-16 years old. He had since relocated to Tijuana, where he has resided for the past 5 years. Currently he is visiting his family in Guanajuato from whom he had been estranged for the past 16 years and just recently reunited.  He will be an associate member of our ecclesia.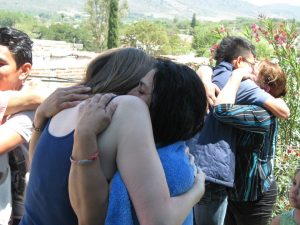 The Bible Center in Guadalajara remains open Monday through Saturday from 10 AM until 6 PM.  We have 3 mid-week Bible studies: Wed 11 am, Thurs 7:30 pm, and Saturday 4:30pm. Sunday we have the Memorial Service at 11am and a Bible study at 12:30pm. We do the Bible readings publically on Monday through Saturday at 3 pm, with several from the neighborhood attending regularly. This schedule allows for both formal and private classes which conform to the schedule of individuals. We have been averaging between 25-40 non-baptized people in study classes each month. We have several who are eagerly pursuing classes for baptism and, Lord Willing, we will be welcoming them into fellowship soon.
We continue to thank the Lord for his great blessings on our work in Guadalajara.  Please remember us in your prayers.
Sis. Cynthia Paiva
< Back to news
Support Christadelphian Bible Mission of the Americas.