June 23, 2015
A Bible School at the Highest Level
By Bro. Rubén Barboza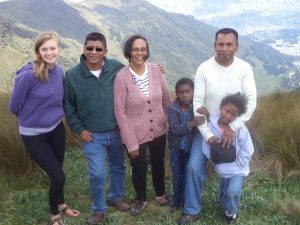 As had been announced, the Ecuador ecclesia celebrated its 7th annual Bible School this last February, gathering together brethren and sisters from this country with others from North, Central and South America. Taking advantage of the Carnaval 4-day weekend, the South American ecclesia took on the teachings of Revelation chapters 2 and 3, along with the books of the Kings of Israel and Judah.
We devoted some profound study and analysis to the words of Jesus to the seven churches. The objective was to try to understand the way in which the Son of God spoke to those brethren in his final words – the way in which he counseled them, how he exhorted them, how he encouraged them to persevere in the hope of the Kingdom of God. After some intense but fruitful sessions, his messages were revealed in all their clarity.
In classes distributed across mornings and evenings for the four days of the gathering, we also spent several hours studying the theme of the kings of Israel and Judah, beginning at Solomon, and their behavior before God.
The classes were accentuated with project work, reading exercises, and topic research & analysis, all contributing to a great learning experience.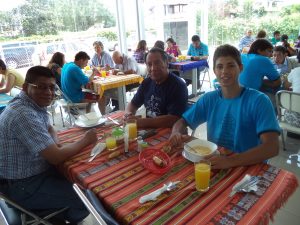 Geographically, the ecclesia in Quito is not only at the center of the world, but also one of the highest in the world, at 2860 meters above sea level. Quito is a beautiful city surrounded by imposing volcanoes. From our location in the Parroquia of Tabalela, on a clear day we could discern both Rucu (Old) and Guagua (Baby) Pichincha, Cotopaxi, Antisana and Cayambe, all volcanoes between 4800 and 5800 meters high. Currently dormant, they surround the capital of Ecuador, sentinels of the landscape that embraced the Bible School's attendees. The country's natural beauty, its raging rivers, imposing waterfalls, majestic mountains and extraordinary flora and fauna became the ideal framework for fellowship in the outdoors. The brethren organized spectacularly beautiful hikes and walks in the hills around Tababela. We also enjoyed some international soccer, with representatives from Ecuador, Canada and Argentina playing in short, breathless bursts at 2600 meters. A rematch is pending for next year!
Another of the activities was the SS presentation, with children and young people that dramatized the story of the sacrifice of Isaac, and also added joy to our evenings with some songs.
The Bible School was well organized, a great, international event that left us all with a yearning to repeat the experience without fail, God willing, until our Lord Jesus returns. Congratulations to the Quito ecclesia in Ecuador! And thank you very much for everything, and we'll hope to see you all again next year when we'll have more brothers and sisters from around the world gathered for fellowship in the middle of the world.
Written by Bro. Rubén Barboza
< Back to news
Support Christadelphian Bible Mission of the Americas.