Ecuador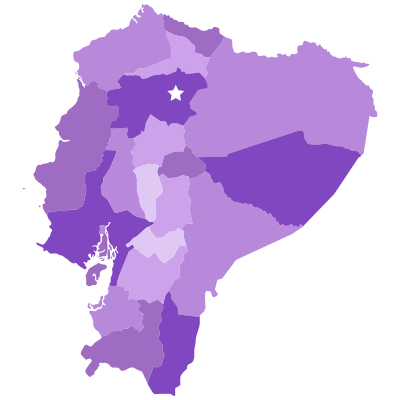 Languages:
Spanish

Ecclesias:
24 members – Quito

Main Religion:
Roman Catholic

Contact:
Kevin & Rebekah Hunter
Activities
The last in-field missionaries left in 2010 and this ecclesia is growing on its own. There has been 1 baptism so far in 2012. Several pastoral visits are made each year.
News from Ecuador
July 31, 2023
A New Sister in Quito
By Sis. Kathy Varela, Quito
On Saturday, July 15, brothers & sisters and friends met at our brother César's house, a very nice place on the outskirts of Quito, to celebrate the baptism of Johanna Rosa, daughter of our brother Manuel Duchi.
continue reading
May 27, 2023
Quito, Ecuador Convivencia (Bible School)
By Bro. Ian and Sis. Nishla Neblett, Colon Ecclesia, Panama
Although the brothers and sisters from the 9 different countries do not live together, our temporary dwelling for the Bible school felt like a prelude to the kingdom. In attendance, were brethren from Argentina, Canada, Columbia, Costa Rica, El Salvador, the United States, Panama, Mexico, and the host nation of Ecuador. The ´Hosteria El Cana´, in the city of Guayllabamba was the location for the Convivencia 2023 Quito, Ecuador, in which all the classes for the approximately 60 attendees were given in Spanish. Interesting fact: The airport in Quito lies 2,813 meters above sea level while the Bible school´s location is 2,142 above sea level. Therefore, the first thrilling experience was the speedy, winding, descending drive around the mountainous terrain, but that paled in comparison to the rest of the week´s edification and fellowship activities.
continue reading
February 7, 2019
Tracing the steps of "the Lamb" in Quito
By Brother Bill Rawson
Once again, I have been treated to the warmth of fellowship of my brothers and sisters in Ecuador. This fellowship was more enhanced by the choice of study the brothers and sisters had requested. I was asked to spend the eleven days of my visit in the study of the Book of Revelation. With the appearance of "the Lamb" throughout the entire book, what more could we desire than to be constantly reminded of the supreme sacrifice of our Saviour, Jesus Christ and the promised Kingdom? 
continue reading
Support Christadelphian Bible Mission of the Americas.