Ecuador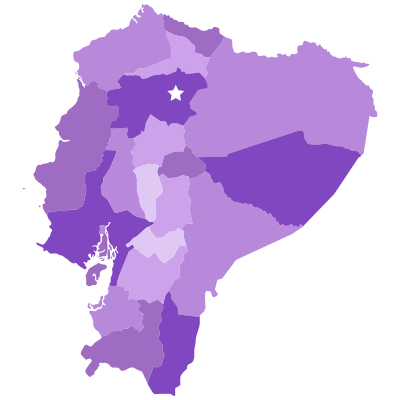 Languages:
Spanish

Ecclesias:
24 members – Quito

Main Religion:
Roman Catholic

Contact:
Kevin & Rebekah Hunter
Activities
The last in-field missionaries left in 2010 and this ecclesia is growing on its own. There has been 1 baptism so far in 2012. Several pastoral visits are made each year.
News from Ecuador
February 7, 2019
Tracing the steps of "the Lamb" in Quito
By Brother Bill Rawson
Once again, I have been treated to the warmth of fellowship of my brothers and sisters in Ecuador. This fellowship was more enhanced by the choice of study the brothers and sisters had requested. I was asked to spend the eleven days of my visit in the study of the Book of Revelation. With the appearance of "the Lamb" throughout the entire book, what more could we desire than to be constantly reminded of the supreme sacrifice of our Saviour, Jesus Christ and the promised Kingdom? 
continue reading
July 11, 2016
Fifty Years in Spanish Speaking South America
By Bro. John and Sis. Mélida Burton
2015/2016 marks the fiftieth anniversary of the start of Christadelphian Bible Mission activities in Spanish speaking South America. On the 22nd of April 1965 Brethren George Smith and Gordon MacRae moved from Panama to settle in Bogotá, Colombia's capital. Gordon from Edinburgh had spent the last night with us in England before we saw him off on the boat from Southampton to Panama..."Aye", he later remarked, with wry Scottish humour ,"that was my first night in a foreign country!"  (Leaving Scotland for England).
continue reading
June 23, 2015
A Bible School at the Highest Level
By Bro. Rubén Barboza
As had been announced, the Ecuador ecclesia celebrated its 7th annual Bible School this last February, gathering together brethren and sisters from this country with others from North, Central and South America. Taking advantage of the Carnaval 4-day weekend, the South American ecclesia took on the teachings of Revelation chapters 2 and 3, along with the books of the Kings of Israel and Judah.
continue reading
Support Christadelphian Bible Mission of the Americas.