October 13, 2020
Baptism of Tom Davis
By Bro. Mike LeDuke
On Thursday, May 7, www.thisisyourbible.com student, Tom Davis, was baptized into Christ and became a member of the Kitchener-Waterloo Ecclesia.  
Behind that flat statement of fact lie some unusual arrangements.  You see, Tom lives 2,100 miles or 3,300 kilometers from our meeting place in Kitchener, Ontario. His home is in Fairmont Hot Springs, British Columbia, a spectacularly beautiful town located in the South-East corner of British Columbia, on Columbia Lake. The nearest Ecclesia is at least a 4 hour drive away. In any case, due to the present necessity to "socially isolate", it would have been just as complicated to have arranged a baptism at that Ecclesia. Tom eventually plans to relocate to be near an Ecclesia, but he is not sure yet just which one. Until that decision is made, we in the Kitchener-Waterloo Ecclesia, are very happy to have him as a member.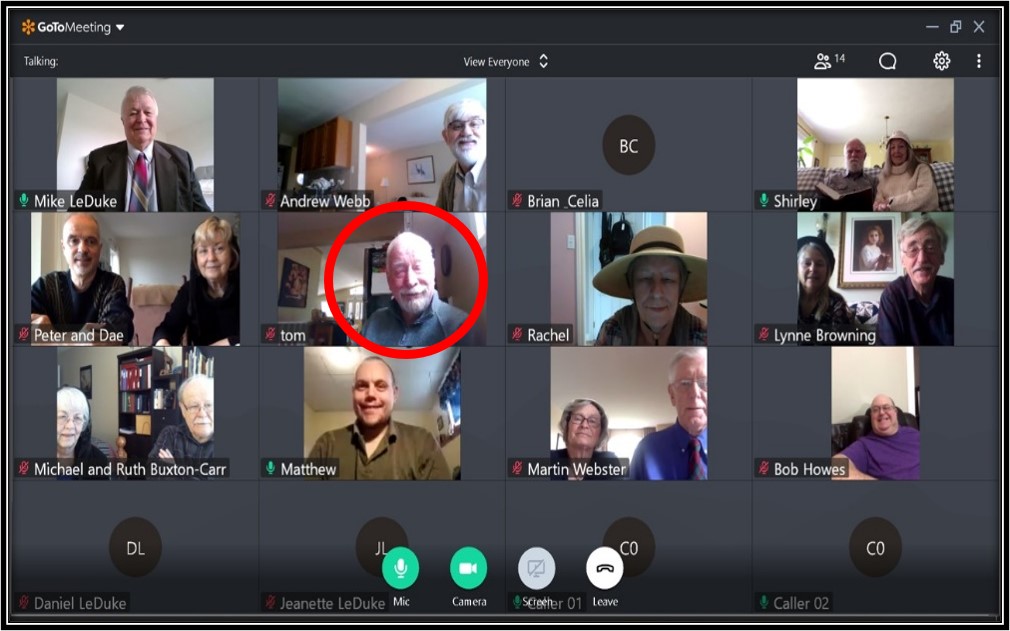 Tom was introduced to the Truth through a providential encounter with Sister Arina Legay from the Victoria Ecclesia, while they were both visiting in Vancouver.  On February 7 of this year, he registered on thisisyourbible.com and, after having read some of our literature and working through much of the Exploring the Bible course on the website, he let me know that he felt ready for baptism. 
I did some initial preparatory work with him and determined that he was indeed ready. After an hour and a half interview by phone, a date was set for his baptism, Thursday, May 7.  Around 20 members of the K-W Ecclesia and visitors signed-in to the App, GoToMeeting, at 4pm (2pm for Tom whose corner of B.C. is in the Mountain Time Zone) to witness Tom's baptism.  
Thankfully, Tom's bathtub was able to accommodate him (it is one of those tubs that comes with its own "Swim at your own risk" sign!). Otherwise, we might have had to figure out a Wi-Fi connection on the shores of Columbia Lake, (all the hot springs facilities being closed) near Tom's home and risk an almost certain case of hypothermia!  The baptism went well, and we bade each other farewell until Sunday's "Welcoming into Fellowship" and Tom's first partaking of the bread and wine in memory of our Lord Jesus Christ. (See the screenshot of Sunday's meeting just prior to its start. Tom is the one circled in the center of the picture.)
On Sunday, May 10, we welcomed Tom into Fellowship with his brothers and sisters in the K-W Ecclesia and, indeed, with our world-wide family in Christ. Again, we used the GoToMeeting App, with close to thirty "present", including visitors from Toronto and B.C.  Even under the circumstances, it was a wonderful meeting and it was a privilege and a blessed encouragement for all concerned! 
Even under the circumstances of our physical separation, the Christadelphian habit of post-meeting conversation asserted itself. We stayed online chatting for some time, wishing Tom our Heavenly Father's rich blessing in his new life! Brother Tom, "Welcome to the family!"
Written by Bro. Mike LeDuke
< Back to news
Support Christadelphian Bible Mission of the Americas.