March 19, 2014
Christmas Vacation in Puerto Rico
By Brother Martin and Sister Kathy Owen
Puerto Rico is one of the bigger islands in the Caribbean with a population of close to 4 million. It is an American territory or commonwealth and Puerto Ricans have US citizenship.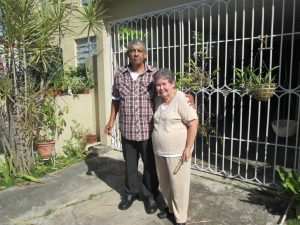 Although it has its share of economic challenges, Puerto Rico is a delightful island.  It is a bit like Hawaii– the people are friendly, the water is safe to drink and the chain stores and restaurants are familiar. Spanish is the main language but many people speak English.
Sister Kathy and I became interested in visiting Puerto Rico when we read Brother Don Luff's article in the Tidings (January 2013).  We decided to spend the Christmas holidays on the island, and the highlight of our visit was a delightful couple of days spent with Brother Miguel and Sister Aida Robles.  The Robles are retired and  in their late 60's and live in Ponce which is the second largest city after San Juan.  They were baptized over 25 years ago by Brother Basilio Fernandez, now living in Florida and are a wonderful example of a couple living faithfully in isolation.  Meeting with them was a privilege, as they are very warm and generous, and they welcomed us with open arms.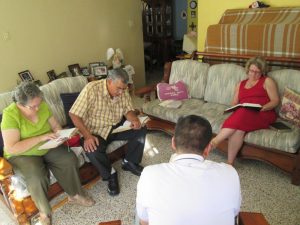 During our visit on Christmas Day and the following Sunday we were treated to delicious island style food (barbeque chicken, rice and fried plantain).  We did the readings and shared a breaking of bread together.  The language was a bit of a challenge due to our limited Spanish and their limited English, but we were aided in this regard by the Robles' eldest son, Miguel Jr. (about 40), who speaks good English and was more than happy to sit in with us and aid our discussions.
The Robles are not shy about witnessing to their family, friends and neighbors, and while we were there we spent time talking with an elderly neighbor and retired language professor, Tomas, who asked some insightful questions.    We also had the opportunity to talk with Miguel Jr., who has a high regard for his parents' faith.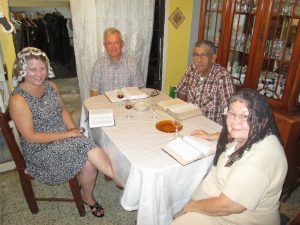 For a variety of reasons there has been very little witnessing in Puerto Rico.  The Roman Catholic Church is dominant and  the Pentecostal churches are also strong.   However the JWs, Seventh Day Adventists, Mormons and other, smaller groups have made inroads, and so there are opportunities for preaching.  The CBMA has provided support to this area over the years, and currently a number of students are taking our Spanish Bible correspondence course.
Two other Christadelphians live on the island.  A younger brother, Edgardo Saldana, who found the truth from our Spanish website labiblia.com and was baptized in Los Angeles a few years ago, lives in San Juan.   A friend of the Robles, Bro. Roberto Martinez, was baptized a few years ago and lives nearby in Ponce.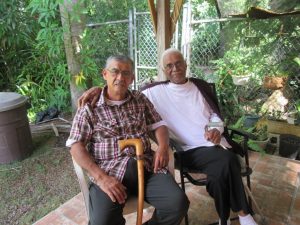 We were instantly drawn to the Robles despite the language hurdle, and got along famously.   While sharing some meaningful discussions about our lives in Christ, we soon learned that our experiences and struggles in the world are similar.   But of course they have other challenges too because of their isolation (which made us feel thankful for our own ecclesia).    We also enjoyed their enthusiasm and their own little ways of doing things, and they seemed to enjoy ours in return!  Sister Kathy and I feel blessed to have had the opportunity to meet this special family, and hope to go back for another visit in the not too distant future.   Puerto Rico is becoming a popular tourist destination, and we encourage others to visit the island and support the brethren.
Brother Martin and Sister Kathy Owen, San Diego Ecclesia, California
< Back to news
Support Christadelphian Bible Mission of the Americas.