November 18, 2013
Fall Events in Guyana
By Sis. Joan Andrews, edited by Sis. Dolores Sleeper
Baptismal Classes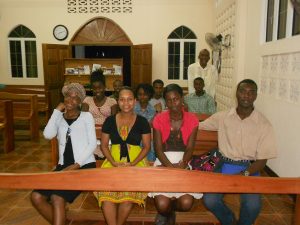 As a result of the enthusiasm generated by the Truth Core visit this past summer two baptismal classes have been started in Guyana. They are being conducted in Mocha and New Amsterdam. We started the Mocha class on the 8th Sept. with Derek Jr and Daniel (sons of bro Derek & sis Marlyn Babb), Jed and Jeron (sons of bro Jerrold & sis Elizabeth Joseph), Abigail  (daughter of sis Dawne Semple), Sarafina (a Georgetown youth circler) and Faida (daughter of bro Abedi & sis Bawili N'djelekulu of Kilcoy). These are the 7 who have persisted. The class is going very well as bro David Andrews guides the youths to an understanding of the first principles of the Faith.
At New Amsterdam we have Sharon and Susan (daughters of bro Rayman & sis Kamla Arjune), Sarah, Reaz and Imraz and, sometimes, Joel (children of bro Shaheed & sis Mohani Rasheed), Sarah Ramoutar (Reaz's girlfriend) and, sometimes, Sonia (daughter of late bro Sankar & sis Bibi Rupenarine). This class meets every other week, Sundays 8:00 am when we are in Berbice. This requires a commitment just to rise and travel early in order to be there.
We are hopeful that the young people in these classes will decide to commit to a new life in Christ. We pray that their faith will germinate and grow and that the encouragement and nurturing they will need to mature in Christ will be provided. These in Berbice are esp. on their own as there are so very few brothers there and they are more isolated from one another. The pull away from the ecclesia can be very powerful. New Amsterdam in particular is in desperate need of a missionary couple to reside there for at least one year.
Annual Sports Day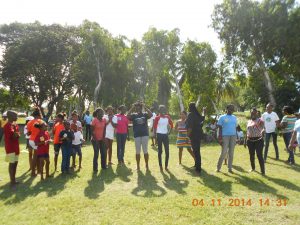 Bro. Sam David left home at 4:00 am to collect children and arrive in Georgetown by 8:30 am. Of course you couldn't stick a pin in the bus it was so full. There were no attendants from Kilcoy nor NA unfortunately. The day was sunny, just the right weather. Lots of participation even from Riumveldt Centre Sunday School children who enjoyed themselves tremendously. Every time they ran or entered an event they would run over to the SS coordinator and cry out, "Ms December, we nearly win dah race yes,buh de string buss on we jes befor we rech the finish line". (Roughly translated: We nearly won the race but the finish line string was broken just before we got there). Fortunately, bro. Sam was able to take a nap before heading back home to Plegt Anker.
Submitted by Sis. Joan Andrews, edited by Sis. Dolores Sleeper
< Back to news
Support Christadelphian Bible Mission of the Americas.