Guyana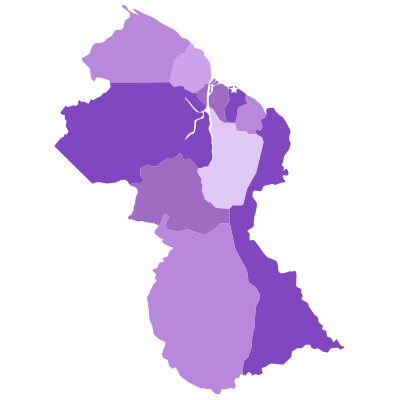 Languages:
English

Ecclesias:
115 members – Georgetown, Kilcoy, Mocha, New Amsterdam, Plegt Anker

Main Religion:
Christian, Hindu, Muslim

Contact:
Mark & Liz Carr, Rafeek & Rose Soolaman
Activities
Major preaching concentrates on Sunday School and CYC outwork, radio preaching, open air proclamation, and ecclesial lectures/seminars. Four baptisms in 2018. With the constant emigration of capable brethren, the ecclesias need help in their efforts to proclaim the Gospel and train up a new generation.
News from Guyana
October 27, 2022
Guyana Youth Camp
By Bro. Trimal Accra
After much planning and deliberation, leaders and youth circlers from the 3 Demerara Ecclesias started their 2½ - 3-hour journey up to Plegt Anker.  Along the way, they picked up some youths from Light town, to have their much-anticipated weekend camp which ran from Friday 29th July to Monday 1st August, 2022. 
continue reading
July 5, 2022
Guyana New Market St. Sunday School
By Bro. David Andrews, Guyana & Caribbean Fieldworker
During the month of March 2021, recently baptized Bro Trimal Accra raised with Bro David Andrews the possibility of commencing a Sunday-School at his home premises, New Market St. Georgetown, and asked for the blessing of the Georgetown Ecclesia. He explained that some parents who shared the residence had approached him on this matter with a view of occupying their children's time during what was vacant Sunday afternoons.
continue reading
May 16, 2022
Guyana Jubilee Bible School 2022
By Bro. David Andrews, fulltime Missionary in Guyana
Easter week-end Friday 15-April to Mon 18-April 2022, will mark the 50th Bible School being held in Guyana. The first was held in April 1969, at the Eccles Hall under the tutorship of Bros. Norman Mills and Stuart Cowlishaw, who were both from the UK. At this time, Bro. Colishaw was a lecturer at the University at the West Indies in Trinidad. I was then just an 18 year-old from the Bartica Ecclesia up the Essequibo River, migrating to Georgetown to take up a job at the Ministry of Finance.
continue reading
Support Christadelphian Bible Mission of the Americas.