April 17, 2012
Fraternal Gathering in Jamaica
By Bro. Don Luff
By the invitation of the CBMJ (Christadelphian Bible Mission Jamaica), we were once again pleased to be able to visit some of the ecclesias in Jamaica during February.  Brother Ray Arthurs of the Broughton Ecclesia met my sister/wife Miriam and me, along with Brother Charlie Link of the Moorestown, New Jersey Ecclesia at the Montego Bay Airport on February 21st.  We spent the rest of the day at Brother Ray's place and were pleased to meet Sister Claudette White, of the South Ozone Park Ecclesia in New York, who was also staying there.  One of the main reasons we were all in Jamaica was to attend the February 22, Ash Wednesday Fraternal.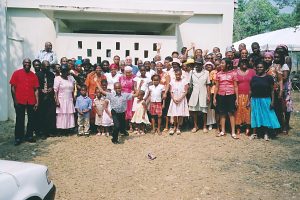 Members of ecclesias from all over the Island converged on the Broughton Ecclesial Hall for a day of fellowship on Ash Wednesday– one of four Fraternal Gatherings held in different locations during each year.  The theme for the Gathering was:  "God is a Spirit and they that worship Him, must worship Him in Spirit and in Truth".  The day started at about 10:30 a.m. with two talks on worship Him "in Spirit" by Brother Don Luff and "in Truth" by Brother Keith Kinlocke.  The two presentations were followed by three discussion groups on the same theme, and then a nice hot meal provided by the Broughton sisters.  Everyone was well-fed with spiritual food from the Word and also with natural food of God's provision!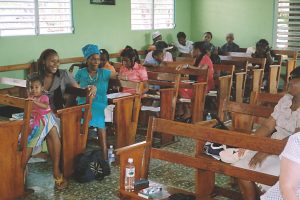 In the afternoon, a Memorial Service centered onthe theme of "Friendship in the Truth", brought us even closer together as we shared the emblems.  About 80 brothers and sisters and 20 youths from 9 ecclesias enjoyed a very uplifting day.  Some attendees were up at 4 a.m. in order to travel over 4 hours across the Island to enjoy the day of fellowship.
During the remainder of the stay, they visited with the Port Maria, May Pen and Harvey River Ecclesias.  Due to various influences and other circumstances beyond their control – the May Pen ecclesial members, Sunday School scholars and CYC members had not been able to meet regularly for several months.  The members of the Port Maria Ecclesia along with the assistance of the CBMJ and the CBMC have undertaken an ecclesial rebuilding project.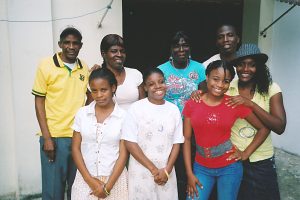 On Saturday, February 25th, a Marriage Seminar was held for local brothers and sisters.  Fourteen attended an informative and practical study which included notes and good discussion during and after the talk.  The Biblical principles to sustain a life-long marriage and factors that can cause problems in a marriage were reviewed during the seminar.  Brother Charlie Link also travelled to the Round Hill, May Pen and Broughton Ecclesias visiting with brothers and sisters, and providing Bible Classes and exhortations.