Jamaica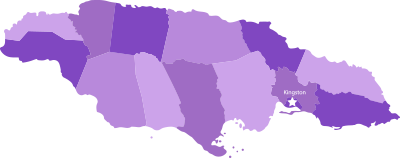 Languages:
English

Ecclesias:
Approx. 102 members – Broughton, Harvey River, Kingston, May Pen, Port Maria, Round Hill, Spanish Town

Main Religion:
Christian (Mainly Protestant)

Contact:
Nathan & Antonia Giordano
Activities
There are seven ecclesias spread around Jamaica. They hold several fraternal gatherings throughout the year, as well as a well-attended Easter Youth Camp. In 2018, Jamaica hosted the Triennial Caribbean Youth Camp and also saw four baptisms on the island. Bro. David and Sis. Cassie Giordano are currently living in Jamaica as missionaries, and intend to stay until spring of 2020, God willing.
The Jamaican Bible Mission is supported by short-term missionary visits and holds quarterly meetings.
News from Jamaica
June 28, 2023
Jamaica Easter Youth Camp
By Sis. Antonia Giordano, part of Link Couple to Jamaica
In April, eleven young (and youngish) North American brothers and sisters from Virginia to visit the brethren in Jamaica for the first time and witness life in the Truth in another place. The purpose was to attend, help lead, teach at and generally support the Jamaica Easter Youth Camp. Bro Matt Tuckson taught the main classes and the other brothers pitched in leading other sessions throughout the day. There were also classes for younger children which the visitors took a large role in.
continue reading
May 1, 2023
Lessons from a Sister
By Sis Shauna Chin Sang, member Port Maria Ecclesia, Jamaica
Sister Enid Hall, of Port Antonio in Jamaica, has fallen asleep in the Lord at the end of a long and faithful life. She would have been 100 years old on the 18th of February, and was baptized in 1985.  Sis Shauna Chin Sang remembers her.
continue reading
January 23, 2023
A Visit to Jamaica for Heroes Day
By Bro. Nathan & Sis Antonia Giordano, Links for Jamaica
Our first visit to Jamaica in three years was all about renewal, both of relationships and our own familiarity with the island…and the tasty goat curry, ackee and salt fish, fried plantain and juicy papaya. Bro Nathan and I were joined by his brother, Dave—who along with his wife, Sis Cassie, spent two years living in Jamaica as full-time missionaries, finishing their time there just as the pandemic was getting started.
continue reading
Support Christadelphian Bible Mission of the Americas.