Jamaica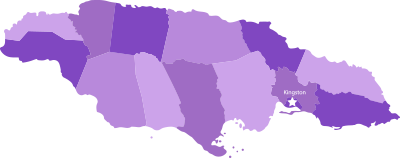 Languages:
English

Ecclesias:
Approx. 102 members – Broughton, Harvey River, Kingston, May Pen, Port Maria, Round Hill, Spanish Town

Main Religion:
Christian (Mainly Protestant)

Contact:
Nathan & Antonia Giordano
Activities
There are seven ecclesias spread around Jamaica. They hold several fraternal gatherings throughout the year, as well as a well-attended Easter Youth Camp. In 2018, Jamaica hosted the Triennial Caribbean Youth Camp and also saw four baptisms on the island. Bro. David and Sis. Cassie Giordano are currently living in Jamaica as missionaries, and intend to stay until spring of 2020, God willing.
The Jamaican Bible Mission is supported by short-term missionary visits and holds quarterly meetings.
News from Jamaica
January 23, 2023
A Visit to Jamaica for Heroes Day
By Bro. Nathan & Sis Antonia Giordano, Links for Jamaica
Our first visit to Jamaica in three years was all about renewal, both of relationships and our own familiarity with the island…and the tasty goat curry, ackee and salt fish, fried plantain and juicy papaya. Bro Nathan and I were joined by his brother, Dave—who along with his wife, Sis Cassie, spent two years living in Jamaica as full-time missionaries, finishing their time there just as the pandemic was getting started.
continue reading
December 30, 2022
Jamaica – Tiny Missionaries
By Sister Antonia Giordano
When Nathan and I were newly married and venturing into the mission field together (India), we carried with us the romantic notion that one day it would be wonderful to take our as-yet-to-be-realized children with us, to expose them early and often to different cultures and the rigors of travel, and most importantly, to the joys and hard work of missionary life. "When the youngest is five," we told ourselves, our ignorance blissful.
continue reading
September 28, 2021
Revisiting Jamaica
By Sis. Cassie Giordano
Returning to Jamaica seventeen months after finishing our two year stay in was a bittersweet experience. My husband David and I were overjoyed to see our friends again, but our time was over far too quickly. As anyone who has ever uprooted to live in a new place knows, you leave a piece of your heart behind when you say goodbye to the people you've grown to love.
continue reading
Support Christadelphian Bible Mission of the Americas.