May 1, 2022
Spring Visit to Antigua
By Bro. Chris Morse, Bracknell Ecclesia UK
Having both recently retired, my wife Sister Alison and I travelled to Antigua for four weeks of vacation in mid-March 2022.  We had visited the island some years previously and wanted to help the small Ecclesia there currently consisting of three Sisters.  We met with them for four Sundays where I ran the Breaking of Bread (carrying out all duties).   While it is a small Ecclesia, thanks to the past work of a Brother, they have a substantial hall which provides a good place to meet. Also present each Sunday were the extended families of the Sisters of various ages who brought a family atmosphere.  Seeing that a number of teenagers were regularly attendees we also ran a Young Peoples Class for three of the Sundays.  This lasted 20 minutes and covered present day events and some specific questions that they asked.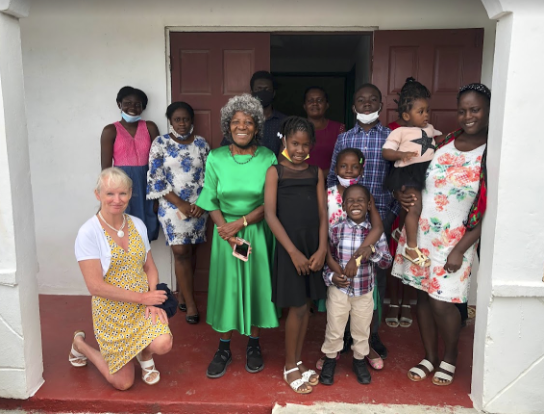 There are three Sisters Iris, Marisa and Simone who meet each Sunday when they can rely on remote material or visitors from elsewhere such as ourselves.  Sister Iris is a retired Midwife from Antigua who worked in Canada for many years and retired back to Antigua.  Sister Simone works shifts but was able to come with her three children for the four Sundays we were there.  Sister Marisa brings her children, her Mother and extended family of nephews and nieces. It is the case that the children and youths outnumber the baptized numbers and as such, are the potential future audience.
It is worth mentioning that Sister Iris is very active given her age and publicizes the truth whenever she can.  The local taxi driver knew all about the Christadelphians and had visited on occasion. The lady who lives opposite the meeting room is also well known, having keys to the room and looking after the meeting's resident dog! Despite being a small community, they are serious about their faith and gladly welcome and cherish the support when offered.
< Back to news
Support Christadelphian Bible Mission of the Americas.