November 4, 2012
St. Lucia Missionary Trip
By Sis. Jan Berneau
The following article from Bro. David and Sis. Joan Andrews, describes their recent trip to St. Lucia, from Guyana where they have been helping in various ecclesias.
Return to St Lucia
On Friday 6-July-12 Joan and I once again left Guyana on a three-week visit to the beautiful Caribbean island of St Lucia (our third in three years) and as usual we were welcomed at the Vigie Airport just outside the capital of Castries, by our fellow labourers and local Brothers, Andre George and Eddie Anthony.
Public Lectures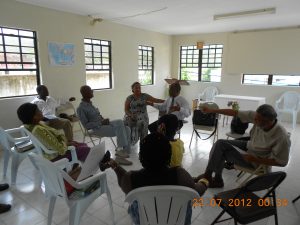 On our previous visit in August/September 2011 we held a number of public lectures that focussed on Israel and the many signs that herald the return of Christ. On this occasion we chose to follow through with five lectures surrounding the theme: How shall a man cleanse his way?
The related topics were: 1) A dream coming true; 2) Signs of the times; 3) The world today and you; 4) The world tomorrow and you; and 5) Making it right with God.
Flyers were prepared and distributed. The response while not as encouraging as expected, saw a number of visitors faithfully returning on each occasion.
Something new!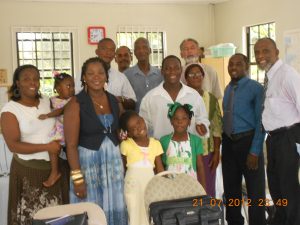 During this visit we were very pleased to observe an added feature of gospel proclamation entitled "Lunch & Learn" being practised and for which the Ecclesia should be complimented, in that each Tuesday and Thursday the Hall is opened to interested friends during the mid-day hour for Bible discussions. Because this exercise entails visitors foregoing their lunch, light refreshments are offered.
During our stay, the book of Acts of the Apostles happened to come under review, and again, a core of about four to five interested friends, as well as a few Brethren who could make it, repeatedly showed up to share in this spiritual treat. This exercise presents many opportunities to focus on Bible first principles, prophecy, and early Church history, thus helping with a greater understanding of the purpose of God. As such, this new practice carries potential to attract the serious enquirer and should be encouraged, perhaps by more aggressive advertisement, personal and otherwise.
Over the three weeks, we were privileged to share in six such sessions touching on Acts chapters 20 through 24 and each of them involved lively discussions and serious Bible questions from our visiting friends. Topics raised during these sessions included: 1) Holy Spirit Gifts; 2) Sabbath Keeping; and 3) Citizenship of the Kingdom.
Home visits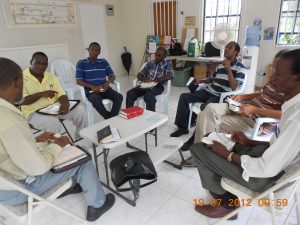 On 12 July, we once again seized the opportunity to visit the Lambert family who were instrumental in aiding our early preaching work in St Lucia, only on this occasion, the matriarch Mrs Lambert had recently died after a prolonged illness. We however met at her sister Ahya's residence, just about a hundred yards further down the road. Sadly, Ahya also is confined to a wheel chair. This however did not prevent her enthusiasm in the presence of her five visiting friends as we expounded the good news of the Kingdom of God and tried to comfort her in her physical distress.
Joan and I also paid our usual visit to the home of elderly Bro George Rock, who lives in Gros Islet, near the tourist resort of Rodney Bay, as well as our dear Bro Sydney Enebelli and Sister/wife Ruth who invited us for a lovely dinner and fellowship around the Word. We were glad to again see Ruth's two sisters, Sister Lois Hammond and Eunice who were spending holidays away from home in Canada.
Beach Party!
It was one of St Lucia's national holidays on Monday 16 July and we thought it convenient to get away to a somewhat different setting and escape the city noise that usually accompany such revelry, so we invited all the Brethren to come with their bathing suits and Bibles and join us for a trip to Pigeon Island.
The only music we played came from our excited chatter over the Bible readings. The sunbathers at Pigeon Point must have thought us a strange and anachronistic bunch! We didn't care being heard and would have welcomed interested listeners but they kept their distance! What's more – there were lots of good Caribbean food to help keep the physical side happy. Sorry only six of us were able to make the trip.
Brethren's Class and MIC
It was good to be able to meet with the Brothers specifically to consider tips for improving our service in the Ecclesia. We considered points on presiding, prayer, and how to prepare Bible addresses.
Ecclesia support
By Friday 27 July it was time to leave St Lucia, together with Andre and Eddie, and head for Tobago to attend the Bible School and 13th Triennial Caribbean Youth Camp. Having these two Brethren in attendance no doubt should prove good exposure to the overall benefit of the St Lucia Ecclesia in the long term, seeing there is only one Meeting on the island. They also went on to visit the Ecclesias in Guyana where they rendered yeoman service by way of exhortation, public lecture, Bible Class, and Youth Circle.
Again, we sincerely wish to register our appreciation for this opportunity to share in the work in St Lucia.
Submitted by Sis. Jan Berneau
CBMA/CBMC Publicity
< Back to news
Support Christadelphian Bible Mission of the Americas.