St. Lucia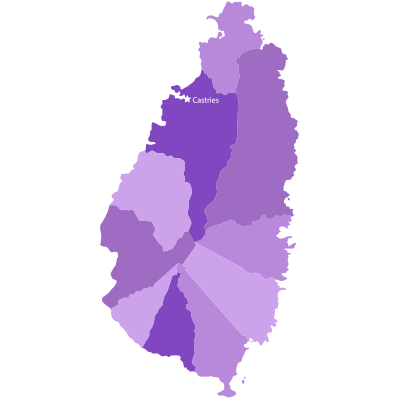 Languages:
English

Ecclesias:
11 members – 1 ecclesia

Main Religion:

Contact:
Mike LeDuke
Activities
Memorial meetings are held each week and in addition two Bible Enrichment classes are held to ecclesial members and interested friends. Support from brethren and sisters from North America, England and other Caribbean countries encourages continued preaching activities.
News from St. Lucia
December 13, 2022
St. Lucia Update
By Bro. Mike LeDuke, CBMC Link for St. Lucia
Following the hiatus in visits and preaching activity due the pandemic and associated issues, I was able to visit the Ecclesia again in November of 2021 (November 7 to Dec. 6) and brother Martin and sister Lois Webster were able to come down on January 3, 2022, and returned on February 20. I followed up with another visit on February 13 through April 11. God willing, my next visit is scheduled for October 29 to December 7.
continue reading
April 14, 2022
St. Lucia – After Two Years…
By Bro. Martin & Sis. Lois Webster
January 24, 2022
Trip to St. Lucia
By Mike LeDuke
I arrived at the airport near the southern tip of St. Lucia, in the afternoon of Sunday, November 7. The passenger intake through the COVID screening and customs was smooth and well-organized. My transport to the Mission House was there waiting for me, even though my flight was over an hour late. 
continue reading
Support Christadelphian Bible Mission of the Americas.