April 27, 2015
The St. Lucia Ecclesia — A Faithful Light in the Caribbean
By Bro. Cliff and Sis. Julia Baines
As we read the many wonderful reports and articles written for the Bible Missionary Magazine, we realize there are so many brethren and sisters who are in such difficult circumstances, but our Heavenly Father is caring for them and guiding their lives in a way that is beyond our comprehension. God's care is evident through life changing events helps us to realize how much we all need the Lord in our lives.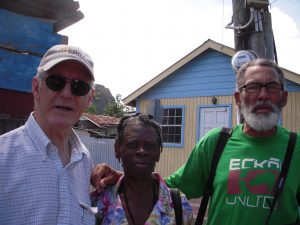 It was a privilege to visit St. Lucia again from early November to early December 2014. The daily schedule was similar to that of previous visits but the need to reach out and present the gospel is always there. The former "Lunch & Learn" classes have become "The Bible Enrichment Hour". These Bible studies are now held later in the afternoon for about an hour (hence the change in the name). We looked at the prayers of Solomon, Daniel, and some of Jesus' prayers, particularly the Lord's Prayer, with three friends who attend consistently. There is always constructive discussion during the classes, with lots of active participation.
We are thankful that the "upper room" (the meeting room) is available for these activities. This helps the local residents to know where the classes are being held, and shows that we are keen on having our activities in a convenient and accessible location.
Three public Bible talks were held, all of which had challenging topics: "You Can't Blame the Devil – the Bible Blames You"; "Our Great Journey"; "According to the Bible Your Death need not be Forever"
We had seven of our regular friends attend the first night, with a few less the second and third nights. The weather may have been a contributing factor. After the first night, there was a lot of rain and St. Lucians do not like to go out if the rain is heavy! November – December is near the end of the rainy season so we expected some participation.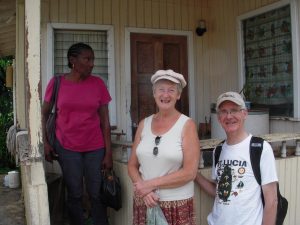 Personal visits were made to see elderly friends whom we've known for several years, and had Bible classes with them on past visits. This time we read the New Testament portion of the daily readings with them, with appropriate discussion afterwards. One of the ladies was still recovering from a Caribbean virus called "Chikungunya". There were quite a number of cases on the Island; with one Brother having had the virus a couple of months before we arrived. The virus is quite incapacitating, affecting joints and brings on a strong sense of tiredness that lasts several weeks.
Bible classes and readings are a regular feature of each day. These are held at the mission apartment when Brothers, Sisters and friends could attend. We were able to visit The Ecclesias' most senior member – Brother George Rock – at his home and we shared the Bible readings with him. He loves to play his keyboard, so he would play a hymn prior to each reading. He explained at the time why he wanted that certain hymn.
This was another worthwhile visit. Continued encouragement, spiritual feeding and clear straightforward preaching are always needed by ecclesial light stands throughout the world. May God be pleased to bless this work while we await the Lords return.
Written by Bro. Cliff and Sis. Julia Baines, Sussex, Canada
< Back to news
Support Christadelphian Bible Mission of the Americas.