June 22, 2012
The Truth in Barbados
By Sis. Jan Berneau
In July 1892, Bro. Blenman was able to report in the Christadelphian Magazine: "I am pleased to announce that an ecclesia has been formed on the Island of Barbados, my native land." During the previous year, about nine or ten immersions had taken place, mainly through the zealous efforts of Bro. James Hepburn, a Scot by birth, who had arrived in Barbados."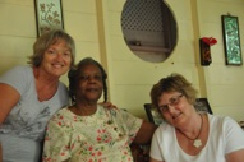 From that time the Truth has been preached to many and maintained by faithful brethren and sisters up to the present. Sis. Murl Marshall (shown here with Sisters Linda Ghent and Janet Darley during their Nov. 2011 visit), one of those faithful ones, was baptized at Huddersfield ecclesia in 1961. During her time in the U.K. Sis. Murl was actively involved in Sunday School work until she returned home to Barbados in 1973. Her love of teaching children has continued in Barbados as Sis. Murl travelled near and far throughout the island to collect children for Sunday School and teach them saving principles of the Truth in her forthright and bubbling way.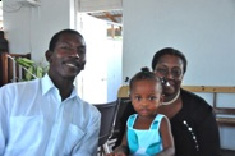 Many of Murl's students have been baptized into Christ over the years.  Bro. Joel and Sis. Heather Caine,shown here with their granddaughter, have been long time ecclesial stalwarts.  Sis. Heather was taught the truth by our beloved Sis.Murl.
An ecclesial lunch during our visit was catered by our Sisters including Judy Rose and Amina Ramlochan.  We enjoyed a feast of macaroni pie, breadfruit and chicken in our fellowship meal together.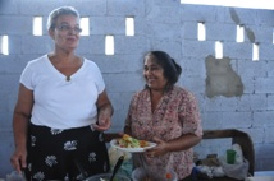 The following appeared in the Christadelphian in 1973: "We were pleased to welcome Bro. and Sis. Prewer from Tobago last month whom we thank for his exhortation on April 15 and for the evening address at our special dedication meeting on moving into our new hall."  Over 70 people attended this meeting of which about 45 were visitors. Plans are in place for a special 40th anniversary celebration of the hall opening next April, God willing.
The meeting place is home to many ecclesial activities.  During our stay visitors and brethren and sisters attended a campaign lecture on the Trinity, Studies on Ezekiel's temple, a regular CYC class for our young people and an ecclesial luncheon.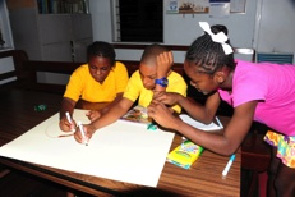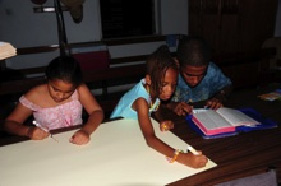 Our CYC students enjoyed portraying features of the Life of Joseph.  They focused on the need to be separate from the world as did Joseph during his life of suffering and trial in Egypt.
Home study classes, like this one at the home of Bro. and Sis John and Christina Bancroft are always part of a visit to Barbados.
During the Easter holidays, there is the annual Barbados Bible School.  Bro. Dev Ramcharan from Canada led the school this year to encourage the ecclesia.
'Bajans' love their Bibles. Typically, every verse a Christadelphian begins quoting to a friend is finished by the friend.  Churches of many denominations around the island are filled on Wednesday and Sundays.  Often a grocery store clerk is sitting reading her Bible while awaiting the next customer.
Because of this interest in the Bible, leafleting and preaching in various centers including the Nelson Square in Bridgetown is a great pleasure. Many friends there were introduced to the www.thisisyourbible.comcorrespondence course.  There are over 600 contacts in Barbados.  Most are happy with their Church but want to learn more about the Word.  Our continual prayer is that some will be moved by hearing the Word and seek out the Truth of scripture to the Glory of God in heaven.
We ask that you keep our beloved brethren in your prayers as they contend earnestly for the Truth once delivered to the saints.  Since 1892, the light stand has been burning brightly in Barbados.  We pray that will continue until our Lord's long desired return.
Submitted by Sis. Jan Berneau
CBMA/CMBC Publicity