October 3, 2013
Trinidad – A new space for the Memorial Meeting and Sunday School in Erin
By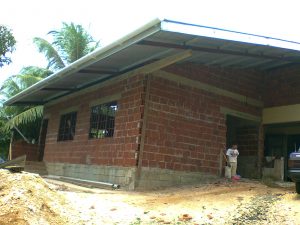 Bro. Brad Butts, the CBMC Trinidad and Tobago linkman shares this information from his visit earlier this year.  For at least 20 years the Erin Ecclesia in Trinidad, West Indies, has been meeting in the living room of Bro. Sheriff Edoo.  The ecclesia has grown to 16 members and approximately 20 Sunday School members (including the CYC).  Though this ecclesia has limited financial resources due to unemployment and medical conditions it has continued to offer a wide variety of ecclesial activities with enthusiasm and perseverance.
In addition to regular Sunday meeting and midweek Bible Class ecclesial, activities include CYC and Sunday School events every Saturday, outreach classes with interested contacts twice per month, and youth gatherings during Carnival and Easter vacation periods.  The group of contacts mentioned averages about six at each session, with two of them pursuing first principles classes with an eye toward baptism.  The classes are held in a nearby village where most of the contacts live.  On two occasions each month most of the group attends the Sunday Memorial Service.  Bro. Edoo sees to it that transportation is provided.
In view of the above and more, the CBMC has funded the building of a meeting room with restrooms and kitchen on Bro. Edoo's property.  Bro. Edoo's living room and porch can no longer accommodate the numbers.  The "Annex", as it is commonly referred to, now has a firm foundation, walls, and a roof and will be completed, Lord willing, early in the Fall of 2013.
May the Almighty continue to bless this project and the good service of the Erin ecclesia.
< Back to news
Support Christadelphian Bible Mission of the Americas.