Trinidad & Tobago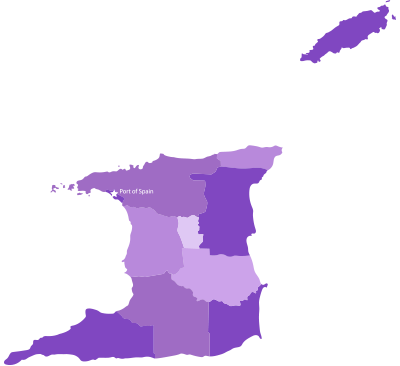 Languages:
English

Ecclesias:
77 members – Mt. Grace, Arima, Marabella, Erin

Main Religion:

Contact:
Ben Drepaul
Activities
A Bible School is held every year, Lord willing, around the August 1st holiday. One brother from North America and one with Caribbean connections are usually the presenters. Each island alternates as the host. Youth retreats are also planned periodically, especially during the February Carnival period, to give the young people a more wholesome and scriptural experience. Active Sunday Schools exist in three of the four ecclesias with many neighborhood children attending. Preaching efforts are ongoing which include a radio broadcast twice a month on Sunday mornings sponsored by the Mt. Grace ecclesia in Tobago.
Truth Corps has visited Tobago on two occasions and once the Erin ecclesia in Trinidad to assist with teaching the youth and preaching. Additional support visits by groups of North American brothers and sisters have been organized in recent years.
News from Trinidad & Tobago
June 22, 2023
A Visit to Tobago
By Bro. Tony Ball, Monroe, WA Ecclesia
During the first week of May, my wife Amy and I were blessed to visit the beautiful island of Tobago. While we were there, we were blessed to visit the Mt Grace Ecclesia. I called ahead earlier on in the week only to hear that Bro. Collin Campbell had fallen asleep rather suddenly and so it was a sad time for the ecclesia. Bro. Collin was the Recording Brother and a hardworking, faithful worker in the ecclesia with a large family of children and grandchildren most of whom also attend the Mt Grace ecclesia.
continue reading
July 10, 2019
Trip to Tobago
By Sis. Kelly Gelineau
The beautiful Island of Tobago nestled next to its sister island, Trinidad, lies at the very end of the Caribbean islands chain, and only a few miles from the coast of Venezuela. (7mi). It has the strongest economy in the Caribbean due to large oil and gas deposits. Although English is the official language, an English Creole dialect is the main spoken language. 36% of the population is of African descent, hearkening back to the dark days of slavery in the sugar cane industry.
continue reading
October 31, 2014
The "Mini World Cup"
By Brother Brad Butts
One of the 2014 Truth Corps stops was at the ecclesia in Mt. Grace, Tobago. It was the final week of the four week tour and you might expect that the team would be getting a bit weary after spending three weeks on the road; two weeks in Guyana and one week in Norfolk, Virginia. To the contrary, the team was still going strong as they began their work in Trinidad and Tobago.
continue reading
Support Christadelphian Bible Mission of the Americas.