March 12, 2022
Ukraine Update – 12 March
By CBM-UK

In the past week, much work has been going on behind the scenes to support brothers and sisters in Ukraine and those seeking to flee as refugees. 

First of all, we need to acknowledge that many of our elderly members spread across Ukraine do not wish to leave their homes, or may be unable to due to age and infirmity. The upheaval it would cause and the danger they would face whilst travelling is such that a number have opted to stay where they are, even in cities that are under Russian constant bombardment. Our ability to communicate with these members is in some cases very limited, since many do not use modern communications methods that we are used to. 

None of our eighty or so active members have a car. Many of them live in isolation in remote villages, some of them 30 miles from the nearest town.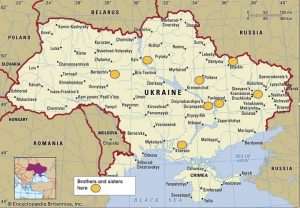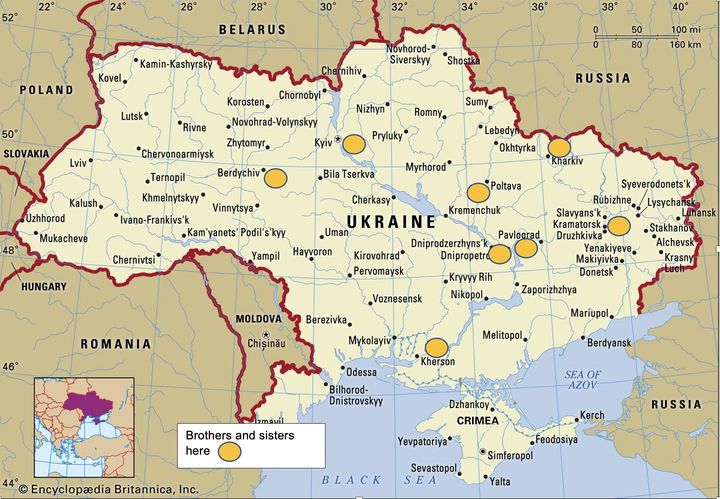 We ask for your earnest prayers for these brothers and sisters especially, that God will protect them from the terrible violence going on around them or find a way for them to be evacuated to safety.

As far as practical help goes, we have been communicating with and supporting a number of brothers and sisters who have been heading west in Ukraine and beyond in recent days, to help them reach a point where they can at least feel safe and be away from the fighting.

The latest update we can provide on those brothers and sisters who have been living in the most dangerous zones is this:
Sis Elena M has escaped from Kramatorsk in the Donetsk region and with Bro Igor B from Kyiv and his son Bogdan is now in Krakow, Poland. They are due to move on to Berlin, Germany on the 13th, and we have put them in touch with a family there, to provide immediate support.
Bro Charles O from Kharkiv with his wife and three children are now safely in Vilnius, Lithuania, where he has applied for residence. 
Sis Marina K and daughter Nastya from Kharkiv are also en route to the west and were last heard of in Ternopil. This leaves Sis Elena A and Bro Christian O from Kharkiv unaccounted for. 
In Kiev, the capital, we have Sis Elana K, right in the centre. She is 83 and too old to move but has money and food and is contacted by phone frequently. Bro Peter R, also in Kiev, sent a 'farewell' email in the week.
Bro Alex T and his mother Sis Olga are still in Bila Tserkva (70 km south-west of Kyiv) and have recently begun to hear sounds of the fighting in their area.
Sis Anna M, her young daughter Maria and her brother's two infants are now in Solingen, Germany, where the German brothers are in touch with them to provide immediate support.
Another group of brothers and sisters and some of our contacts are further south and west in Pavlograd and  Dnipro. Dnipro is now under attack. Sis Tanya K is in Poltava, east of Kiev, but we have not been able to contact her. Anna M's mother and brother are also there.
The balance of our brothers and sisters are right in the south in the Kherson region, near the Black Sea.  Sis Julia lives in the centre of Kherson, which is said to have fallen to the Russians. From this area Sis Vera O from this area sent an agonised email saying the shops are empty and they are cold and with little food. Sis Nana in besieged Melitopol has not been heard from for a few days.  Sis Sveta M's mother near Kakhovka is safe, but now in occupied territory.
The fast pace of communications and work taking place is such that it is not always possible to keep the brotherhood fully up to date with the exact situation at any time, so to everyone who is asking for news or offering help, thank you for your loving concern and willingness to help; sorry if those coordinating the work can't always provide you with answers as quickly as you'd like.

Any offers of help such as potential UK sponsorship of refugees (when this becomes available) should be made to the CBM Linkman, Mark Sheppard at mark.sheppard34@btinternet.com

We have already received offers of support and accommodation for Ukrainian refugee brothers and sisters from our community in Poland, Germany, Romania, Moldova and Montenegro, which means that help is being provided and coordinated via many exit routes, and in countries where the distance from Ukraine is not so great, should the opportunity to return come about soon.

Financial assistance at this time is not a massive requirement as the CBM Welfare fund is able to cope with the requests we have had, and in most cases, money is not the most pressing issue for our members – either because as refugees in the EU they are provided with the basics, or because it is not possible to get funds directly to those in need in Ukraine. However, in anticipation of a greater need over time, anyone wishing to donate financially should make donations to CBM Welfare (unrestricted) in the usual way (https://www.cbm.org.uk/donate/). 

Finally, may we plead again for your prayers. There is so little we can do, and so much our Heavenly Father can do, we must just keep on asking (Luke 18:6-7).
< Back to news
Support Christadelphian Bible Mission of the Americas.