July 14, 2014
Jamaica Easter Youth Camp – A Perfect Weekend!
By Brother Shawn and Sister Marnie Snobelen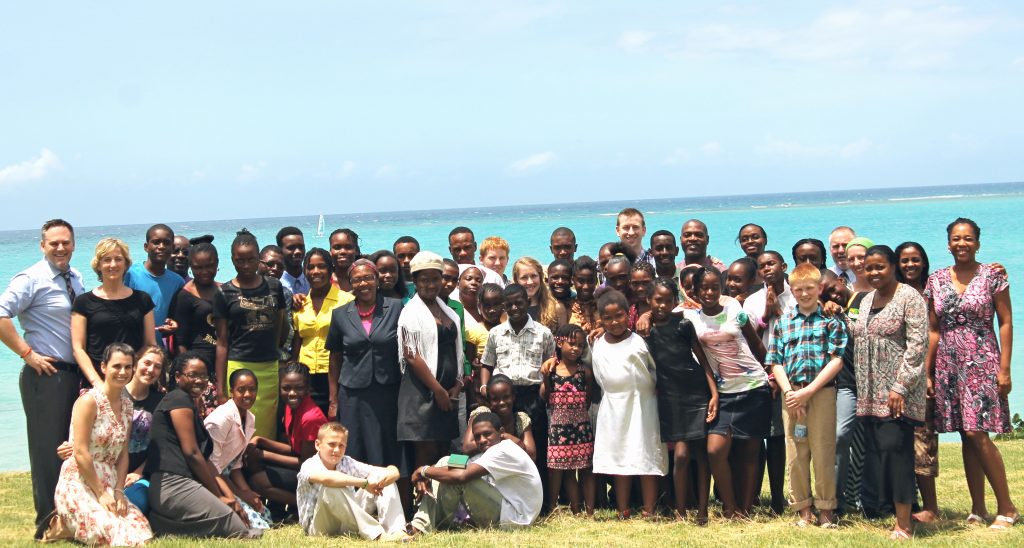 Our Journey to Jamaica for the Easter Youth Bible School really started 6 months before we left. Preparation, they say, is the key to a successful trip. Brother Don Luff, from the Brant County ecclesia in Ontario was our designated CBMC support person to help us prepare. And prepare us he did. Monthly meetings, numerous emails, many phone calls, sewing backpacks in the basement, and collecting supplies from the Christadelphian Save the Children Fund (CSTCF) in London Ontario for classes were just a few of the planning steps. And that was not including 3 brethren preparing for classes and devotions. It was a labor of love, and we are truly thankful for the support and guidance in making sure we were well prepared to go down. It gave us the confidence that we would be as helpful as we could be for the brethren and sisters and young people in Jamaica, as we strove to work in God's vineyard. With eleven eager laborers, we were the largest group to go down in a long time.
We left on Thursday morning, April 17th, 2014, and landed in Montego Bay, Jamaica in the evening. The heat was a wonderful change from a winter of freezing temperatures in Ontario. We gathered our 15 suitcases, and met with our bus and driver for the 2 hour journey to Westmoreland, on the south of the island. It was a bumpy ride in the dark, which meant we could not see the beauty of the country. (We were able to however, on the return trip home). At last we arrived at the Easter Gathering location at just after 9pm. Everyone had been waiting patiently for us to arrive. Brother Stephen Macfarlane was asked to provide some fun icebreakers to get the young people introduced to each other and the visitors from Canada. It was a fun evening, and we were able to get to know most of the kids and brethren and sisters that were there. After all the excitement and introductions, the young people headed off to bed, but not to sleep! Many rekindled old friendships and created new ones – chatting and socializing until the wee hours of the morning.
We awoke to a stunning site! Having arrived at the camp in the dark we were now able to see that the camp is located directly on the beach. The camp grounds covered about a 3-acre parcel of land, lush and green- the west side was the aquamarine Caribbean Ocean and the east side displayed an in-land mountain range. The Camp Hope facility was perfect for the weekend including a lot of room for the kids with separate boy's and girl's dorms, a large common area in the middle and a kitchen at the back.
The morning moved quickly as the organizers had a 6am wake-up call for the campers. Stretching and exercises, and a brisk run certainly woke everyone up. Each morning started like this, and when the exercises were over, various groups of young people from each ecclesia on the island presented a morning devotion. Then off to a full breakfast!
Friday and Saturday were both busy days, with 2 classes in the morning, and one after lunch. The theme for the morning classes was Lessons from the Sower, presented by Brother Shawn Snobelen, and the afternoon sessions were mutual improvement style classes presented by Brother Stephen.  Separate classes were held for the under 12-year-olds out on the front lawn with Sister Marnie Snobelen, Sister Rachel Pryer and Sister Realle Macfarlane. The sisters and brothers thoroughly enjoyed these opportunities to share the Truth with the young people and really get to know them on a more individual and personal way. Afternoon activities included group team games in the form of a field day and a fantastic cook-off competition. Following dinner we enjoyed a quiz championship on Friday and a challenging treasure hunt on Saturday. Each day ended with a devotion on the Fruit of the Spirit by Brother Grant Pryer – our sub theme for the weekend.
The weather was beautiful. It was over 30 degrees both days, and humid. We had heavy rain for a short afternoon burst almost every day which cooled down the heat, and provided ample opportunity for volleyball in the rain – a popular activity on the weekend! Much of our free time was spent playing volleyball on the grassy area in front of the main building and heading to the beach to swim.
Sunday came too soon – and preparation for our memorial service was under way. We have all had to speak in different kinds of weather, however this was the hottest temperature any of us have had to endure. Imagine an exhortation in 37 degrees weather. Some of us started to miss the cold north – even if just for a moment. However, we had a wonderful opportunity to break bread with the brothers and sisters and young baptized. Following lunch we had a lecture entitled 'What Kind of Believer are You'. Sunday afternoon was spent in games, spiritual conversation, and preparation for the formal dinner and talent night that was scheduled for that evening. Part of the preparation included a class on etiquette that was prepared by Sister Kay Brown. The young people were really excited and spent many hours getting ready for the dinner. The male campers were dressed in their finest clothes and waited patiently for the young ladies to make their entrance. It was a wonderful evening, with great food and an entertaining evening of Biblical skits, songs of praise and poems. The evening ended in a devotion on kindness.
Monday was the All-Island Fraternal Gathering which involved a flood of brethren and sisters, friends and children from across the island converging on Camp Hope to meet and fellowship with each other. Some arrived by car, others by bus, and soon there were over 100 people in the main room. Brother Stephen presented a talk entitled 'Passing the Charge' and then we had a memorial service and lunch. It was wonderful to meet so many from Jamaica, and get to know some, and reminisce with others who had previously met some of our relatives and brethren and sisters from Canada. (Brethren Philip Snobelen, Ted Hodge, Ron Leadbetter, Ron Ghent, Daniel Leadbetter and others). We left sad, but exhilarated at 3pm. Driving out of the camp, heading back to the Sangster Airport, we really felt it was too short, and that we needed more time to both learn more about our brethren and sisters, yet felt we had formed strong bonds with many of them. Since our group included various ages of both males and females, we were blessed to engage in spiritually uplifting conversations with many different individuals throughout camp. It was a unique and fulfilling experience for all of us, and one that we would certainly repeat if our Lord remains away, and we are afforded the opportunity.
Written by Brother Shawn and Sister Marnie Snobelen
< Back to news
Support Christadelphian Bible Mission of the Americas.