February 24, 2014
The Message Does Not Change!
By Bro. Ken Curry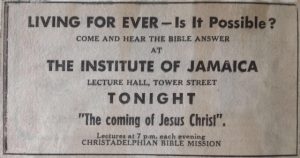 In looking through an old diary, two advertisments for Christadelphian Bible Mission lectures caught my attention.  They announced a series of public lectures to be held at the Institute of Jamaica in downtown Kingston in March 1959. These ads appeared in Jamaica's national newspaper then called "The Daily Gleaner".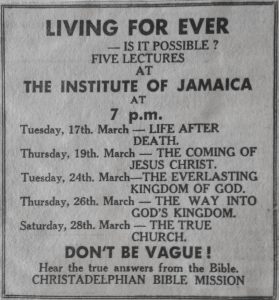 What is particularly interesting are the topics and how similar they are to subjects we may use today. These ads are over 50 years old but the message remains the same. This is as it should be. Regardless of time and place in this world, the wonderful message of God's purpose and God's call to salvation continues to be the the same in content and appeal. The sowing of the good seed of the Word of God is the constant work of the followers of Jesus. May God's blessing be upon all faithful preaching of His Word.
Bro. Ken Curry, Toronto Canada
< Back to news
Support Christadelphian Bible Mission of the Americas.