Haiti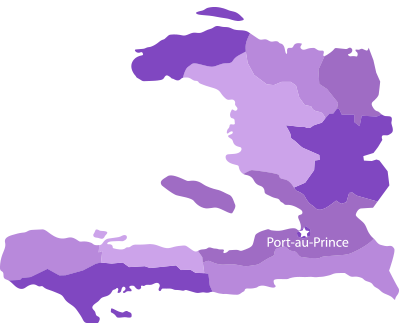 Languages:
French, Creole

Ecclesias:
45 members

Main Religion:
Roman Catholic

Contact:
Jeff Gelineau
Activities
Outreach is primarily done through Bible Conferences whereby visitors are invited to attend and learn more about Bible topics. These are held in a rented location with meals provided. There is also a primary school run by meeting members that draws several children into Sunday School classes.
News from Haiti
November 11, 2022
Exciting Work in Haiti
By Bro. Stephen Johnson
Esmath Sainval was planning to be a Protestant minister in Haiti. He graduated from a seminary in Port au Prince, and began working as an Assistant Pastor. But as he continued his Bible study, he came to the realization that Jesus is not God, the Holy Spirit is not the third person of a Trinity, man does not have an immortal soul, and the future true Christian hope is the resurrection from the dead and being part of the Kingdom of God on earth. The only first principle he needed help understanding was the true meaning of the Devil and Satan, and a Christadelphian website helped him understand Bible teaching on this fundamental.
continue reading
April 14, 2015
A Baptism in Haiti
By Bro. Dan Archibald
In early October I went to Haiti to visit Gironald Julien, a friend I have known since 2010. Our paths would not normally have crossed except for the fact that Gironald, along with his wife Esther, had travelled to Ecuador in 2010 as refugees in the aftermath of the devastating earthquake of 200X that left so many homeless. My family and I spent a few months in Ecuador during 2010/2011 and were introduced to Gironald and Esther, who were renting a room from the grandparents of my wife Maribel.
continue reading
Support Christadelphian Bible Mission of the Americas.