Argentina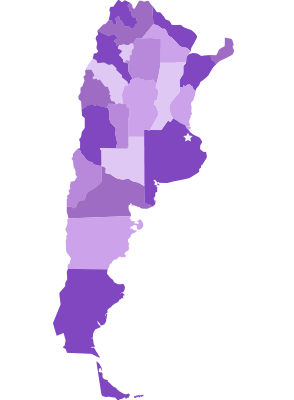 Languages:
Spanish

Ecclesias:
5 members – 1 ecclesia

Main Religion:
Roman Catholic

Contact:
Jim Hunter
Activities
All members live in the central city of Córdoba. Outreach is carried on through personal and family contact and the Internet. There is currently one student attending Baptismal classes. Until visits resume after Covid members keep in touch with CBMA and brother and sisters in many other countries via social media.
News from Argentina
October 28, 2019
Visits to Peru and Chile, plus a baptism in Argentina
By Bro. Jim and Sis. Jean Hunter
It was a joy to visit the brethren and sisters and friends in Lima. In the course of 3 public lectures and memorial service, we were happy to welcome 23 different adult visitors, along with 14 children and the support of 9 of the 10 baptized members. Most visitors attended for several sessions.
continue reading
November 14, 2016
Visit to Brazil, Argentina & Paraguay
By Bro. Jim Hunter
One of the challenges of the mission field is providing service to brethren and sisters and contacts in isolation. Email, telephone and Skype are a tremendous help in teaching, maintaining friendships and providing spiritual support. But even then, members need the lift provided by personal visits and it's important to meet and talk personally with promising contacts as they grow in the Truth. With these factors in mind I was able in July and August to visit two brethren and two friends in South America.
continue reading
July 11, 2016
Fifty Years in Spanish Speaking South America
By Bro. John and Sis. Mélida Burton
2015/2016 marks the fiftieth anniversary of the start of Christadelphian Bible Mission activities in Spanish speaking South America. On the 22nd of April 1965 Brethren George Smith and Gordon MacRae moved from Panama to settle in Bogotá, Colombia's capital. Gordon from Edinburgh had spent the last night with us in England before we saw him off on the boat from Southampton to Panama..."Aye", he later remarked, with wry Scottish humour ,"that was my first night in a foreign country!"  (Leaving Scotland for England).
continue reading
Support Christadelphian Bible Mission of the Americas.