Bolivia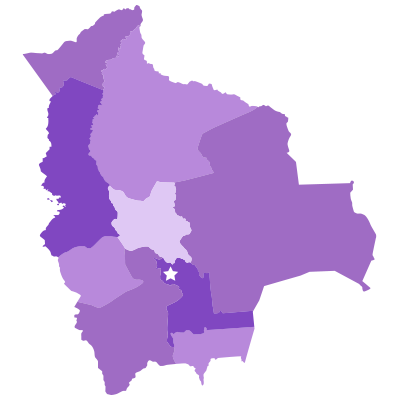 Languages:
Spanish

Ecclesias:
8 members – 1 ecclesia

Main Religion:
Roman Catholic

Contact:
Shimon & Joanna Spina
Activities
The size of the country poses a challenge to outreach, fellowship and pastoral work.
The members are widely scattered. Bro. Emerson Acosta advertises in print media and also generates many contacts on the Internet. The year 2018 saw the baptisms of two young men who had discovered us on the Internet and had been instructed by Emerson and via Skype classes from North America. They now receive post-baptismal classes. Some tune into meetings being broadcast in Spanish by ecclesias in Central America. CBMA workers maintain contact with all members and visit periodically.
There are several interested friends around the country.
News from Bolivia
May 9, 2023
A Visit to Bolivia and Chile
By Bro. Robert Alderson, Link Brother for Chile
In a rerun of the visit made to Bolivia and Chile in November 2022, it was the turn of the brethren in Chile on this occasion in 2023 to celebrate a baptism, while the brethren in La Paz, Bolivia continue in the one faith waiting our Lord's return.
continue reading
November 14, 2022
Opening the Curtains
By Bro. Robert Alderson, Link Brother for Chile
Changes are more noticeable after a period of absence, especially with children. The incremental changes from day to day often compound into a dramatic difference. The last 3 years have had their share of change, some of which has been by no means incremental, so, a return to Chile and Bolivia after such an absence bluntly revealed the effects of recent global upheaval.
continue reading
December 27, 2021
Missionary Life in Bolivia
By Bro. Isaiah & Sis. Rosie Tunnell
Imagine sitting down for afternoon tea at someone's house, and as you lift your hot drink to your lips, you glance around the room and notice a human skull staring back at you. In Bolivia, this is a very real possibility.  The animistic beliefs of the Aymara, Quechua, and other indigenous groups, contribute hugely to the culture of Bolivia. La Pachamama (Mother Earth) is worshipped as the life-giver, and spirits are said to inhabit many things, one of those being human skulls.
continue reading
Support Christadelphian Bible Mission of the Americas.