Chile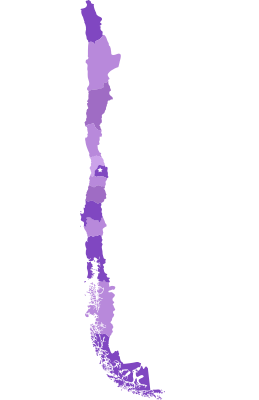 Languages:
Portuguese

Ecclesias:
8 members – 2 ecclesias

Main Religion:
Roman Catholic

Contact:
Robert Alderson
Activities
The size of the country poses a challenge to outreach, fellowship and pastoral work.
The members are widely scattered. Bro. Emerson Acosta advertises in print media and also generates many contacts on the Internet. The year 2018 saw the baptisms of two young men who had discovered us on the Internet and had been instructed by Emerson and via Skype classes from North America. They now receive post-baptismal classes. Some tune into meetings being broadcast in Spanish by ecclesias in Central America. CBMA workers maintain contact with all members and visit periodically.
There are several interested friends around the country.
News from Chile
October 28, 2019
Visits to Peru and Chile, plus a baptism in Argentina
By Bro. Jim and Sis. Jean Hunter
It was a joy to visit the brethren and sisters and friends in Lima. In the course of 3 public lectures and memorial service, we were happy to welcome 23 different adult visitors, along with 14 children and the support of 9 of the 10 baptized members. Most visitors attended for several sessions.
continue reading
November 15, 2017
Chile – The Ecclesia of God meets in South America
By Bro. Andrew and Sis. Shaye Yearsley
Christ told a parable about a man starting to build a tower or a king going to war and not "counting the cost". One lesson in life is that when you suggest an event you need to follow it through to completion. Many months ago we began planning a Bible School to be held in Chile for brethren in South America. The location in the mountains about an hour outside of Santiago is called 'La Bella Durmiente' – with cabins and outdoor recreational facilities in a quiet area away from the busy capital of 7,000,000. In the back of our minds we had a figure of about 20 attendees, assuming that many wouldn't be able to make it due to other commitments or distance. Assumptions!
continue reading
September 6, 2017
Missionary Introduction to Chile
By Bro. Andrew & Sis. Shaye Yearsley
Way back in 2009/10 we (Andrew and Shaye) spent almost 6 months in Chile working for a New Zealand company.  During that time we experienced first-hand the isolation of the few brothers and sisters here.  Though our Spanish was extremely limited (well actually, Andrew's was totally non-existent), simply turning up to the meetings giving an extra 30% to the numbers was helpful to them.
continue reading
Support Christadelphian Bible Mission of the Americas.