Costa Rica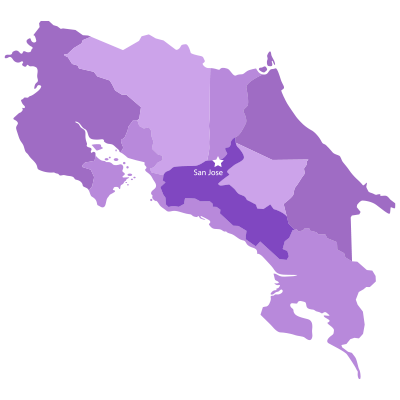 Languages:
Spanish

Ecclesias:
45 members – Santa Bárbara, Costa de Pájaros

Main Religion:
Roman Catholic

Contact:
David Collister
Activities
Currently, the Santa Barbara, Heredia group has 45 active members, and an active Sunday School and Youth Group.
Active outreach is accomplished through the postal course, a website with articles published regularly, with a provision for user feedback, and plans for a YouTube channel with weekly talks published. The group also plans and carries out a yearly Bible Weekend. Several are currently studying for baptism.
News from Costa Rica
February 14, 2023
Costa Rica Bible School and Baptisms
By Bro. David Collister, Link Brother to Costa Rica
I always look forward to the yearly Bible School in Costa Rica. I'm not too fond of the flight down since it is usually a red-eye flight, leaving just after midnight and flying all night, but the enthusiasm and spirituality of the group and the enriching experiences always makes it worth it.
continue reading
May 10, 2022
Five Baptisms in One Day
By Bro. David Collister (translated from Facebook)
It is with great pleasure that we share the wonderful news of five baptisms in Costa Rica. Sis. Daniela González, Bro. Anthony Ramirez Ugalde, Bro. Carlos Ramírez Ugalde, Sis. Sonia Soto Arias and Sis. Carolina Chavez Hernandez were all baptized into the Lord on April 18, 2022 in what the Costa Ricans described as a beautiful ceremony.
continue reading
March 10, 2022
Costa Rica Year-End Bible School 
By Bro. David Collister
December 2021 arrived, along with the Costa Rican Year-End Bible School. In a very rare occurrence indeed, I was in Costa Rica for the second time within six months. This came out of several circumstances brought about by the COVID-19 Pandemic. It is truly a blessing that we were able to hold this Bible School in person, as well as provide a link for those who could not be here in person. Technology truly is a blessing in these circumstances.
continue reading
Support Christadelphian Bible Mission of the Americas.