Mexico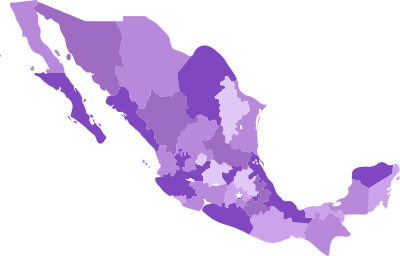 Languages:
Spanish

Ecclesias:
46 members – Guadalajara, Santa Cruz el Grande, Merida, Campeche

Main Religion:
Roman Catholic

Contact:
Dennis Paggi
Activities
In the past year, the Santa Cruz el Grande ecclesia was formed. It is located just over an hour from the Guadalajara meeting. in November, the Mexican ecclesias held a Study Weekend in Santa Cruz el Grande, with classes also being held on Sunday in Guadalajara. We are thankful that. Bro. Dennis Paggi was able to lead the weekend classes.
Sis Damaris Cuevas and her two daughters, Sis. Raquel and Sis. Abi, who reside in Campeche, are active in local outreach and following up Google ad course requests from the area. Several persons are studying with Sis. Damaris in Campeche and a lady in a nearby city is receiving baptismal instruction from N. America.
The ecclesias continue to have active outreach efforts near their ecclesial locations and an active correspondence course program.
Mexico: 38 members, 2 ecclesias (Guadalajara, Sta. Cruz la Grande)
Yucatan: 8 members, 2 ecclesias (Merida, Campeche)
Contacts
Guadalajara, Jalisco Sur
Dennis Paggi
David Collister
Merida, Campeche
Jim Hunter
News from Mexico
September 29, 2023
Guadalajara & Ocotlán Weekend Trip
By Bro. David Collister, one of Link Brothers to Mexico
Brother Dennis Paggi and I made the trip to Mexico to visit the Brothers and Sisters and give a study weekend over March 31st to April 3rd. Brother Dennis has visited Mexico on several occasions, but it was my first time. Dennis and I recently accepted the position of link team for Mexico, replacing Bros. David Lloyd and David Jennings, who were the links for Mexico for over twenty years. Their work is greatly appreciated.
continue reading
September 19, 2022
Campaign in Guadalajara
By David Jennings
I've always wondered what contribution I could make to ecclesias in Latin lands.  While I took Spanish in high school, I certainly would never claim to have Spanish fluency. I have wondered if I took a trip to one of our ecclesias in Mexico, Central or South America whether I could really make any tangible …
continue reading
April 21, 2021
Ongoing Preaching in Mexico
By
Our current efforts at electronic preaching began about six months before the pandemic began. They had been working on getting sufficient software to be able to put our classes and breaking of bread online live and recorded for those who were unable to attend in person. They use Uber Conference, as they are easily available with a single phone number that never changes and without need of a PIN number.
continue reading
Support Christadelphian Bible Mission of the Americas.